Custom Coins from Challenge Coin
Thank you for your interest in creating a custom coin with us! In addition to our 1000+ stock coins we also offer the opportunity to have your own coin made.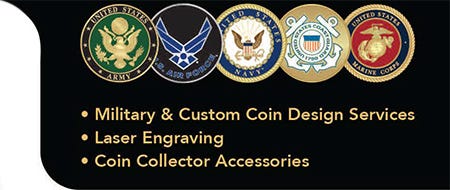 If you're starting from scratch our artist can assist with bringing your idea to life. To start this process, we will need the following information from you:
■ Shape
■ Size
■ Thickness
■ Plating Color
■ Color Fill
■ Border
■ 3D Sculpted Detail
■ Additional Features
■ Laser Engraving
If you already have artwork and are just looking for a quote you can send your artwork along with any other information you may have to us. Please be sure to include the quantity you would like quoted, the size of the coin, and any other relevant information.
Minimum order quantity - 100
Payment is required in advance to receive a digital proof.
Lead time once the proof has been approved is approximately 12 to 15 weeks.
Please email your design, images and all custom coin details to [email protected].
If you have any additional questions, please call our customer service team at 1-800-663-7487, or e-mail [email protected].
Custom Coin Detail Options
■ Traditional Round Sizes (Brass Alloy)
40mm (1.5"), 45mm (1.75"), 50mm (2"), 55mm (2.25")
■ Custom Shapes / Sizes are Welcomed (Zinc Alloy)
■ Standard Thickness
3- 3.5mm
■ Plating Colors (Shiny, Matte or Antique Finish)
Gold
Silver
Black Nickel (aka Gunmetal/ Hematite - Dark Grey in appearance)
Black Metal (Dark Black in appearance)
Copper
Bronze
* Dual Plating is available


■ Color Fill Options:
Soft Enamel - Raised Metal Edges can be felt (Enamel is Low-Filled)
Hard Enamel - 2D Only/ Flat and Smooth Finish (Enamel is filled all the way and sanded)
* Both methods use the same metal molds, and both will have bright and vibrant colors.
■ Decorative Borders
Swirl-Cut
Rope
Petal-Cut
Double Cross-Cut aka Diamond-Cut
Reeded
Wave-Cut

■ 3D Sculpted Detail
Multi-Dimensional Modeling for details such as People, Vehicles, Aircraft, Mountains, Trees, Insignia, etc.
* Provides a more Realistic Appearance in Plain Metal
■ Common Features that can be incorporated
Bottle Opener
Background Textures: Sandblast, diamond plate, etc.
Pierced detail
Spinning feature: a secondary part on pin that can rotate in place
Clear Epoxy Overlay - Can be added to protect detail
■ Laser Engraving
Sequential numbering as requested: 1-150, 01-150, 001-150
*Side Wall Engraving available